I recently managed to acquire a pair of oddities at a car boot sale. They're two Kenzo fountain pens, one in red and one in green,both with gold trim. They're quite charming pens, fairly slim but not too small (13cm in length), and apparently dating from the early 1990s, made for the Kenzo fashion house. My experience has been that most fountain pens made for fashion brands aren't terribly good, but in this case I was surprised to find I'd acquired a pair of decent writers. (According to GoPens they were made for Kenzo by Stypen. I have a few reliable and nicely made Stypens, so that's perhaps not as much of a surprise as it could be.)
The design is a little quirky. The rings at the top of the cap and end of the barrel are indented, and there's also an indent in the cap ring and section ring, breaking up the contour of the pen. The ends are quite pointed, and there's a red transparent jewel at the top of the cap.
Open up the pen and you see its most notable oddness - a jewelled overfeed. The red pen has a glowing red overfeed, but that on the green pen is darker (it appears to be the same red, but discoloured by ink), and this has caused me a few problems as I have to look quite closely to see which way up I've got the nib. The true feed is also elongated and quite plain, though a little larger than the overfeed.
The section is very slender, tapering down to 7mm. I don't have any problem writing with it though. And though the pen's relatively heavy for its size, due to the (I think) brass construction under lacquer, I can write continuously for some time without my hand becoming tired.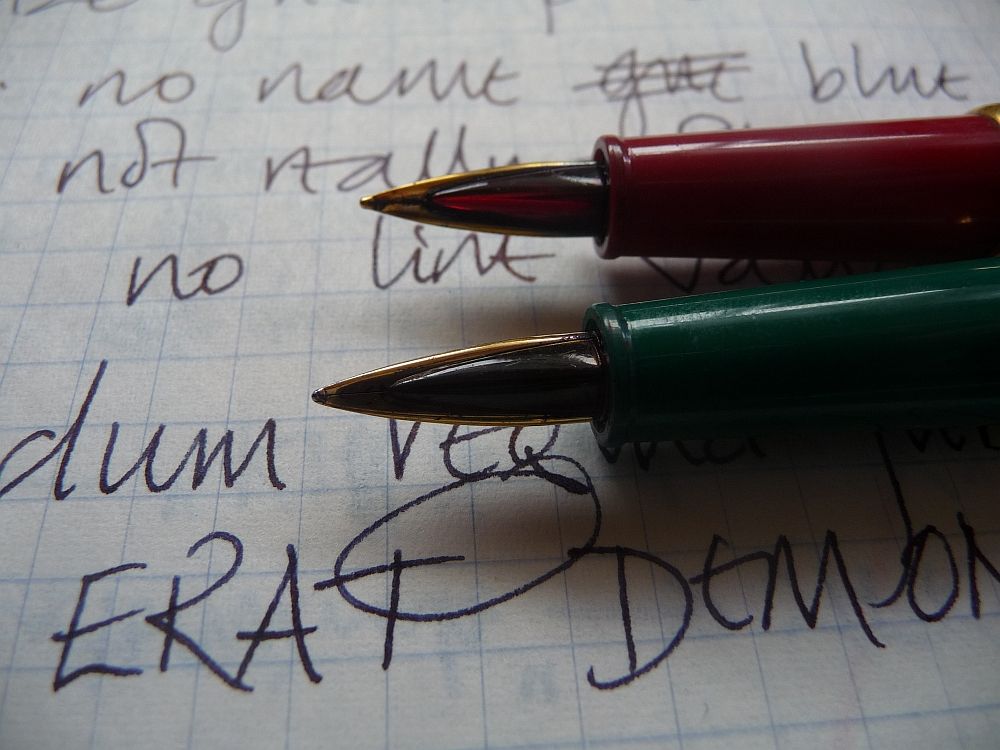 I'm not sure the red jewel goes with the green. It's the one thing that spoils my pleasure in that pen. It's a bit sinister, like a crocodile with bloodshot eyes or a green idol with ruby eyes... if Cthulhu had a pen, this would be it.
And on one level I suppose I do find the design rather hideous. But then a lot of the things in my wardrobe in the early 90s were equally hideous. (A search for 'Kenzo 1990s' found a remarkable purple and green paisley suit... which, objectively, was rather lovely, but not very street cred. I think it will take a while for this decade to come back in fashion.) It's certainly original. This pen doesn't look like anything else I've got. It doesn't look like a knockoff of a Duofold, a Montblanc 149, a Faber Castell Ambition or a Lamy Safari. It looks unique.
The surprise for me was that these designer label pens are truly delightful writers. The nibs don't flex but they have a bit of bounce, a little softness that makes writing with them easy and extremely smooth. No scratchiness at all, unless I turn them over by mistake or by design, in which case they still write, but a thinner line, and with a bit too much feedback. I wonder if these are actually gold nibs? They certainly write as if they are.
I understand these pens are also available in yellow, black (or possibly dark blue) and fuchsia (unless that's just someone's way of describing the red) - all, oddly, with the red jewel. I'd love to put together the whole collection.