I am a sucker for this 'Vacumatic' style of celluloid. I am also a lover of 'fantasy' 51s. This little pen ticked both buttons with its 51 style looks and variegated orangey brown celluloid barrel.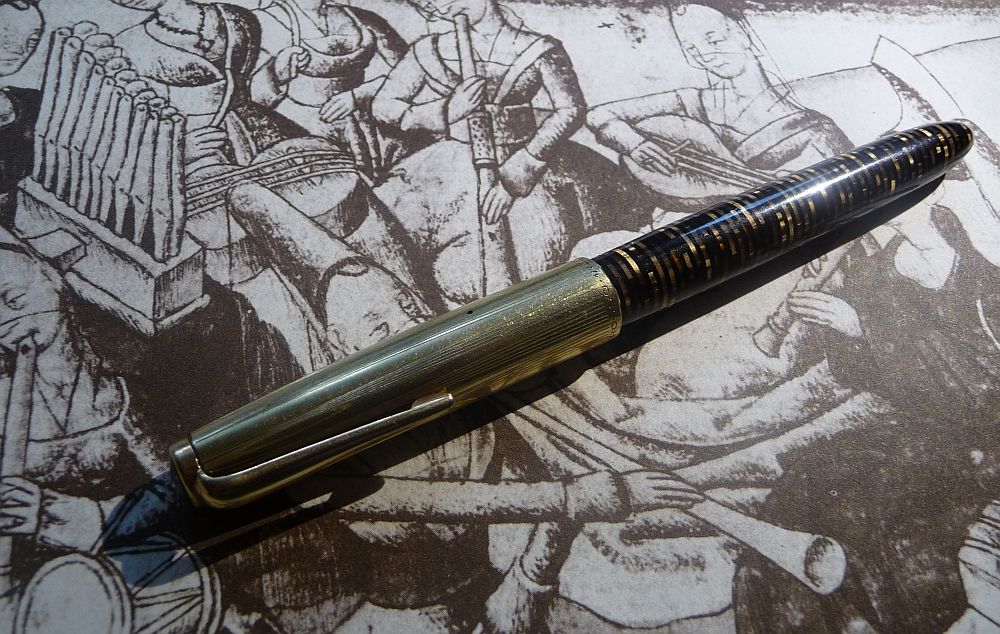 It's not quite a Parker 51 but it's obviously got a family resemblance, with a gold filled cap and streamlined body. Open it up and it has the same hooded nib. An incredibly good-looking little pen.
What you can't see in the photo is the top of the cap. Instead of a Parker jewel, it has a grey roundel with a little red dot in the middle - the eponymous
punto rosso
. (Punto Rosso was an Italian pen company based in Settimo Torinese. I've not been able to find out much more about it.)
It doesn't quite have the Parker 51 insides. No collector, no aerometric squeeze filler. Instead it has a clear syringe filler, something I'm used to seeing on Italian and sometimes French pens. This is a nice quality filling system, with a metal collar; I'm used to seeing cheap and nasty ones but this is nicely made and pushes down very positively.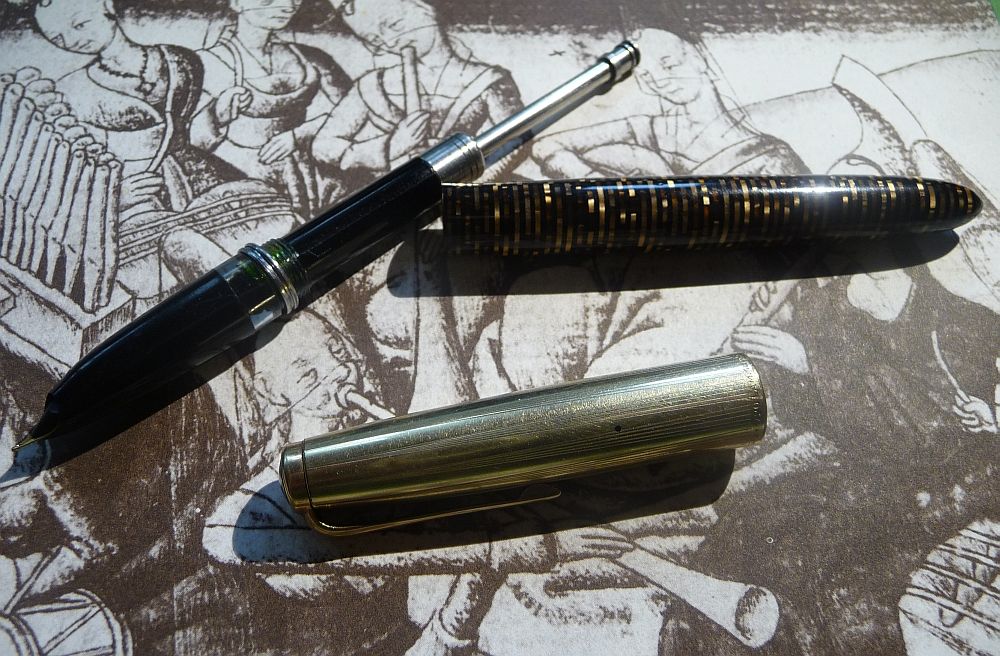 The one thing that is intensely annoying about the pen, though - and you can see this in the photo if you look closely - is the metal clutch ring (very similar to the Parker 51, as are the 'fingers' inside the cap). It's not attached to the pen, so every time I unscrew the section to refill with ink, it falls off. It's a pity such a nice pen is let down by such a small fault.
I also have to say the steel nib is rather disappointing. It looks as if it's folded steel rather than iridium tipped, and I've had to open up the tines a bit to get it writing properly as it was so dry to start with. It is not a joy. Compared to my inexpensive Dollar demonstrators, this pen has much greater pretensions, but isn't nearly so much a pleasure to write with. I wonder if I can get the nib swapped....